Harry S. Truman Biography and Quotes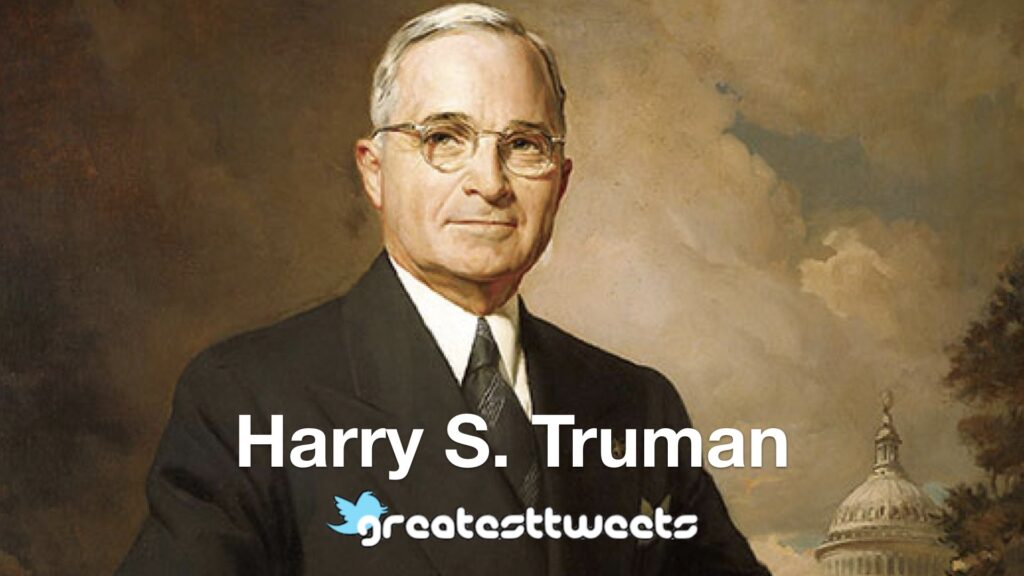 Birthday: May 8th, 1884
Commemoration: December 26th, 1972
Nationality: American
Famously Known For
Truman was the 33 President of the United States of America. He was also an active serviceman in World War one at age 33. He was promoted to the rank of a captain while he served in France. He was a vice president of America in 1844 where he worked in the government of President Roosevelt.
Early Life
Truman was the firstborn in a family of three children. His parents, John Anderson Truman and Martha Ellen Truman were farmers. He was named in honour of his uncle Harrison Young. Truman grew up in his parent's farm in Missouri and was unable to attend college due to lack of finances on the parent's side. After high school, he worked for a railway construction company and as a bookkeeper at two banks in Kansas City.
Personal Life
Truman got married to Bess Wallace on June 28, 1919, and the two had a daughter, Mary Margaret who was an only child.
Career
Truman volunteered to serve in World War One in the National Guard in 1917. After returning from the war in 1919, he began a political career where he successfully ran for the position of a county judge. He served for two terms and afterwards ventured into national politics where he successfully ran for the position of Missouri Senator.
He was sworn in as the senator for Missouri in 1935. As a senator, he was responsible for successfully bringing up two legislations that were passed; the Civil Aeronautics Act of 1938 and the Transportation Act of 1940. He was re-elected again as the senator. Roosevelt would later appoint him as a running mate and consequently became the vice president.
After the sudden death of President Roosevelt, Truman assumed the position of the president as required by the law. It was during his tenure that Nagasaki and Hiroshima were bombed using an Atomic bomb.
Death
Truman died on December 26, 1972, after a long illness.