Gertrude Stein Biography and Quotes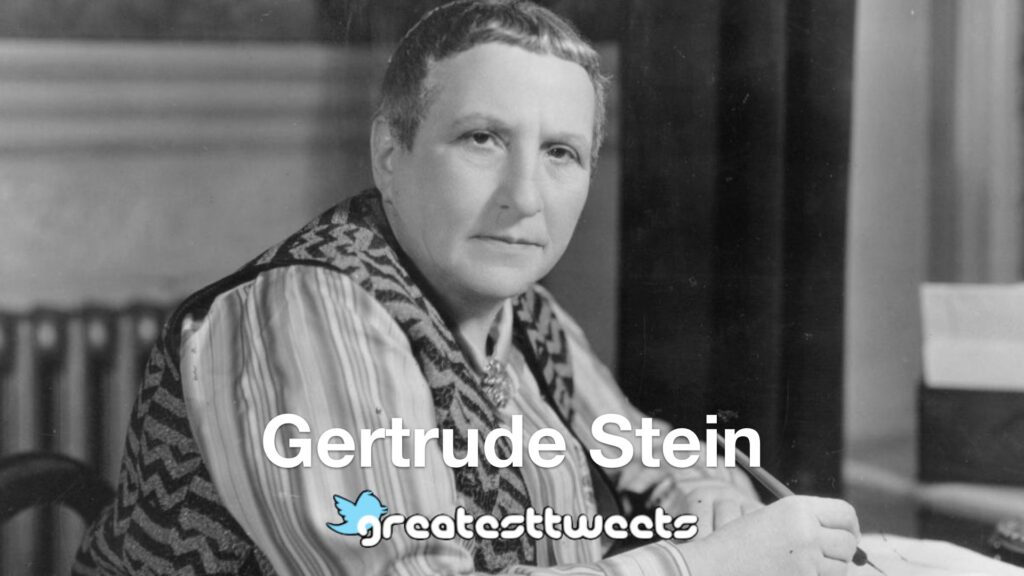 Birthday: February 3rd, 1874
Commemoration: July 27th, 194
Nationality: American
Famously Known For
Gertrude Stein, an American writer, is famously known for stepping her foot forward in support for art. Her impact can easily be felt to date. Stein discovered and supported the likes of Ezra Pound, Pablo Picasso, Max Jacob, Henri Matisse among other famous painters.
In 1968, The New York Times acknowledged Stein for forming the 'first modern museum.' Stein had collected paintings hung on every wall of her apartment. Also, Picasso's sketches were fastened on her dining room's double doors.
Besides, Gertrude Stein is known for her writing skills. She earned great recognition from her two books; The Making of Americans (1952) and The Autobiography of Alice B. Toklas (1933).
Early Life
Stein's parents were immigrants of German-Jewish descent and moved to France while she was three years old. In 1878, her family moved back to America and settled in California. Stein enrolled for a psychology course at Radcliffe College. She also schooled under the arms of William James, a well-known psychologist. Later, the American writer joined John Hopkins Medical School to further education. Unfortunately, she left both schools without graduating.
Personal Life
On September 8th, 1907, Gertrude Stein met Alice B. Toklas, her lifelong partner. Stein had differences with her country on art and ideologies. The differences saw her leave for France together with Alice B. The couple lived in France for more than 30 years without returning.
Career
In 1903, together with her brother, Stein formed an artistic salon where they would collect and display post-impressionist paintings of renowned artists. During her stay in Paris, Stein started publishing her writings. Most of her work talked about her college experiences. During World War I, Stein and her partner served as ambulance drivers for the French. In the early 1930s, the distinguished writer made a successful lecture tour of the US.
Death
On July 27th, 1946, Gertrude Stein died of cancer in Neuilly-sur-Seine, France at the age of 72.
Gertrude Stein Quotes